He only shuts up when he is writing!
From the Pastor:

An African Thanksgiving

Church bulletins are strange things. Everyone grabs one but very few people read them. Some claim to read them but swear that they never knew that the parish has a Catholic Women's Club, homeschool group, St. Rafqa stitchers, adult Catechism classes or other such staples of Catholic parish life. Others read the bulletin but then forget to put important dates on their calendar and so miss out on parish events or special feast days. Then there is another whole group of people who claim that they read carefully but neglect to mentally note such important statements such as "This bulletin had to be printed before Thanksgiving Day since the office is closed that Thursday and Friday." Trust me, there is a reason that such a sentence should be read and remembered.

With that out of the way, let me tell you about my Thanksgiving. This year my little sister, Karen, was hosting the family gathering and, as normal, she said to invite any "orphan" priests or Sisters who didn't have anyplace to go. Number one on the list was Father Emmanuel. He gladly accepted the invitation and was excited to get a reprieve from his Master's studies and from grading math tests taken by the college kids in the undergraduate classes he teaches. He really needed this break. He has been getting a bit homesick and, since he cannot go back to Tanzania for a while, he asked my sister if she could fix some African dishes for Thanksgiving. When she hesitated, not knowing what food he might be thinking of, he quickly told her that, if she didn't mind, he would get some help and do the cooking for everyone! He said he would love to do this for us in return for making him feel like a real part of our family. Plus, it would truly help him to get schoolwork out of his head. A few years ago he had gotten some help from a couple of African Sisters and they whipped up a wonderful meal for everyone and he assured her that they could do it again, so Karen finally relented and gave most of the cooking chores to him. Mom would still bake the pies for dessert, Karen would supply the snacks for the pre-meal hours, my other sister and my brother were to bring the drinks and I was to lead the prayers. I liked that division of labor!

Since they don't celebrate Thanksgiving in Africa, Father Emmanuel needed a bit of help in preparing the menu. He wanted to make it as African as possible but still retain Thanksgiving traditions when he could. What nobody knew is that he turned to Aunt Irma as his American "expert". It was probably for the best that we didn't know! In Tanzania, they spend a lot of time cooking their food. Days, not hours, are spent hunting, cleaning, cooking, and socializing in preparation for big feasts. So he came to town a few days before Thanksgiving and he and the Sisters got to work preparing the food. He wouldn't tell us what they were making but did give us a hint that some of it had to be ordered from Amazon or caught in traps because it wasn't available for sale locally. Although the Africans were thrilled to be at the convent having a real 72 hours long cooking party like they would have back home, on Thanksgiving Day there was something missing for the rest of us without the normal aroma of a roasting turkey. But that little disappointment was forgotten quite quickly when the food (and the cooks!) finally arrived in mid-afternoon.

I wish that I could describe in detail each of the dishes they brought. The food, overall, was incredibly delicious, even when (or because) we didn't know what we were eating. But it is always the "failures" that make the most memorable stories. First of all, Father and the Sisters now know that: 1) sweet potatoes are not simply red potatoes boiled in syrup; 2) not all tree leaves taste good in a salad, even with a generous amount of dressing; and 3) breadsticks don't involve any wood at all. But those few dishes aside, the dinner was a success. There was one major surprise menu item worth noting. Evidently, they don't have turkeys in Tanzania so they made due with birds which they would eat back home. They were smallish, much like a quail or Cornish hen, and there were enough cooked up so that everyone got at least one. They told us that the birds were called polywons in English, but none of us had ever heard of such a creature. Nevertheless, they were tender and juicy and had plenty of flavor and were truly a hit. Dare I say they were better than turkey? Everyone ate theirs and fought over the extra birds. Later that evening Fr. Emmanuel remembered that he had written down the name which Aunt Irma had called the small, colorful fowl. Maybe he was just mispronouncing it. So he pulled out his note for us to read. On it was written, "pollywannacracker"?!

With prayers for your holiness,

Rev. Fr. Edwin Palka

​
Powered by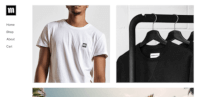 Create your own unique website with customizable templates.